Wood Reclaimed and Salvaged From Local Urban Tree Sources
wood slabs • Kiln Dried Wood • Custom Tables • Custom Orders
---
Frison-Logue Hardwoods teams with Frison Tree Service to acquire reclaimed and salvaged wood from urban tree work and hazard tree removals in Southern Oregon. Having the ability to repurpose logs that usually just end up as wood chips, allows us to focus on our goal of providing beautiful Oregon wood worldwide.
After logs are received, our team custom mills the logs, completes the wood sterilization and drying process in our kiln. Wood orders from our online store are prepared to ship worldwide. Clients purchase wood from Frison-Logue Hardwoods for a variety of reasons: live edge table tops, unique "one of a kind" projects, mantels, home renovation projects, home and wedding decor, furniture and many other projects.
Our website will give you a look at what we do and our online store allows clients to easily place orders. Remember to check back regularly as our inventory is updated frequently. We take great pride in providing personalized service for each order and our customer satisfaction is absolutely guaranteed. We look forward to helping you with your order.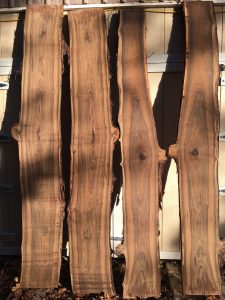 ---
Live Edge Slabs

We specialize in kiln dried, highly figured wood slabs. We have wood slabs in a variety of lengths, widths and thicknesses to ensure customers find exactly what is needed for projects. We can custom cut slabs to desired dimensions.

---
Blue Stain Pine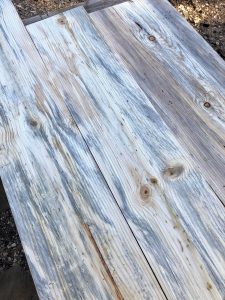 Kiln dried Blue Stain Pine wood is one of our most requested wood. We hand pick the best logs through our partnership with Frison Tree Service. The pine logs are salvaged from becoming wood chips. We then custom mill and kiln dried the wood at FLH. The result is wood with a beautiful blue color that is very popular for home improvement projects.
---
Mantel Pieces

Custom milled mantel pieces cut to desired dimensions are available upon request. Clients can choose from Walnut, Black Oak and Maple for a custom mantel.

---
Wood Rounds and Burl

Our wood rounds and burls are salvaged from urban tree removals and are used for a variety of purposes. Many clients use our wood rounds for home decor, wedding decorations or simply as a way to have a beautiful piece of wood. In addition, w

e have burl turning blocks, table tops and decorative pieces available.
---
Table Slabs and Custom Furniture

Find the perfect live edge wood slab for a table top or unique project with our selection of highly figured wood slabs. New inventory is added frequently. Feel free to contact us to discuss specific dimensions or wood species.
---